5 Different Types of Pearl Choker Necklace You Can Buy in 2021
As more people start falling in love with pearl jewellery for their uniqueness and realise their value, the options available in the market for pearl choker necklace designs also increase. 
At Pure Pearls, we have always held our heads high for bringing you one of the widest ranges of pearl jewellery collections at very affordable prices. And we are doing it yet again in 2021 with a broad and exquisite variety of pearl chokers.
Note that in this blog we will only discuss the different pearl choker necklace designs that are trending in 2021 but not the different types of pearls. We have a separate blog for that which you can find by clicking here.
So, let's dive right in and explore the different types of pearl choker necklaces that you can buy from Pure Pearls in 2021! 
1. Bridal Pearl Choker Necklace (Indian Style) 
Topping our list this marriage season is the bold and beautiful bridal pearl choker necklace design, as you can see below.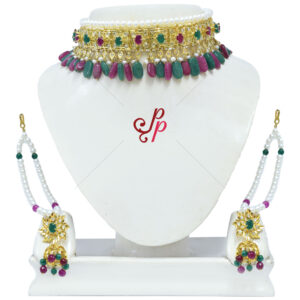 This choker necklace is inspired by the ancient royals of Hyderabad – the City of Pearls. 
2. Bridal Pearl Choker Necklace (Western Style) 
Do you like the elegant and classy looks from the west? Then the choker necklace design shown below is great for such brides in 2021.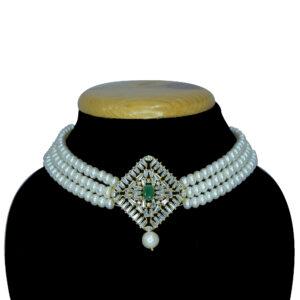 Featuring a lovely rhombus-shaped sparkling pendant studded with American Diamonds, this pearl choker is certain to steal the show! So, if you want to look spectacular at your wedding (or at your friend's wedding… *wink* *wink*) this is the one for you! 
3. Elegant and Minimal Pearl Choker Set 
Sometimes, simplicity is significant! 
Often, to our displeasure, elite fashion accessories that are subliminal yet stylish are very hard to come by. But not anymore. Shown below is a gorgeous pearl choker set that will look flawless on any woman! 
From casual tees to business formals or cute one-piece dresses, this choker is set to make you look and feel chic! 
4. Broad Pendant Pearl Choker 
Another show-stopper type of pearl choker necklace design that you can find here at Pure Pearls is a broad pendant one. 
These necklaces, as shown below, feature very large pendants with high-quality dangling pearls and studded with various stones and American Diamonds!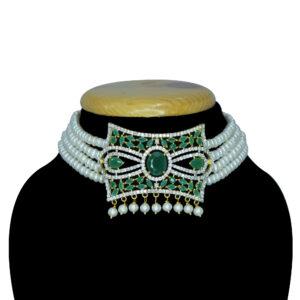 5. Simple Zig-Zag Pearl Choker 
Many of us love the simplicity of a pearl necklace but is there a way to add an extra flair to a plain pearl choker without adding a pendant to it? 
Of course, there is! See below!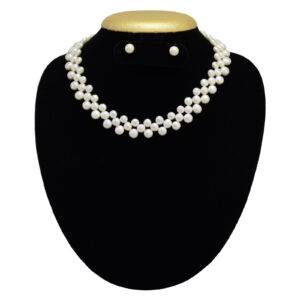 This exquisite choker necklace is simple yet sophisticated. Made of just pearls woven intricately in a zig-zag pattern, it will adorn your neckline, unlike any other choker! 
Conclusion 
Those were our picks of the top 5 different pearl choker necklace designs. Which one did you like the most? 
Check out more designs in the chokers section of Pure Pearls.
5 Different Types of Pearl Choker Necklace You Can Buy in 2021 News
5 Different Types of Pearl Choker Necklace You Can Buy in 2021 Resources