Reinventing Elite Fashion with Pearl Jewellery in 2021
Pearl is one of the most beautiful gems. They are a product of nature and are very rare! 
Pearl jewellery has stood the test of time and has always made a statement. That is why it is worn by celebrities, top business professionals and other high-income people. 
Pearl jewellery has been a part of elite fashion for a long time. It was always considered a luxury and a status symbol for the rich and elite. But in recent years it has started to be used by common people as well. In fact, in some parts of the world, it has become a trendy fashion trend. 
The tradition of wearing pearl jewellery is for generations for the elite people of the society. But, now there has been a change in the scenario. It is now being worn by people of all ages and all walks of life. Pearl jewellery has moved beyond the elite world to the world of the common man. 
In this blog, we will be looking at the reasons behind its sudden popularity and how it has been reinvented to fit in with the modern trend. It's a big fashion world out there, get set to dive in. 
Why Is Pearl Jewellery Being Worn by More People? 
If you have an eye for fashion and style when you step out of home, you would have noticed that many more people have begun to adorn themselves with pearls and pearl jewellery, including men! 
But what is causing people to suddenly move to pearls from traditional gold and diamond jewellery? Here are a few reasons. 
Realisation of Value 
People from all walks of life, young and old, rich and poor, have begun to understand the true value of pearls. 
The beauty and variations in pearls truly set them apart. Moreover, since they are natural gemstones of nature, every pearl is unique! 
Scarcity 
Pearls are hard to obtain. It can take months to years to get a single pearl from a mussel! This dramatically increases their value. 
For example, saltwater pearls can be 10 times more expensive than freshwater pearls mainly because of their rarity. 
Accessibility 
With brands and online stores like Pure Pearls, along with improved pearl farming techniques and globalization, pearls are more accessible to the general public than ever before. 
Status Symbol 
Historically, pearls have always been worn by people who are very highly reputed, like kings, queens, CEOs, Presidents, etc. 
As pearls have become more accessible, they are now worn by working professionals and celebrities as a symbol of authority and status. Not to mention, pearl jewellery looks AMAZING anyway! 
How Has the Design of Pearl Jewellery Evolved Over Time? 
Earlier, due to the rarity of pearls, only people who "had everything" could afford to buy ropes and ropes of pearls. Many others could only afford a few pearls. 
So, most historic pearl jewellery had very few pearls and was combined with other precious metals like gold and silver. 
Today, Pure Pearls is making pearl jewellery accessible to everyone. Hence, even a middle-class family man or woman can buy plain pearl sets without breaking the bank!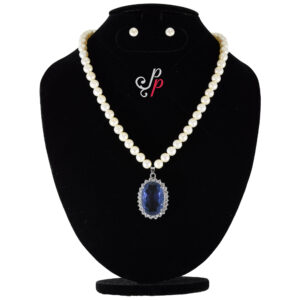 Furthermore, the Millennial and Gen-Z generations seem to prefer plain pearl jewellery like a plain pearl necklace, simple pearl studs and plain pearl bracelets instead of metal-pearl jewellery. Another reason for this paradigm shift is that plain pearl jewellery can be worn on an everyday basis.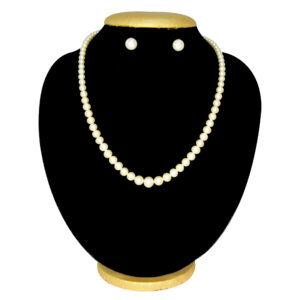 Pearls And Diamonds 
Pearls and diamonds have always been considered elite. Pearls are a symbol of purity and diamonds are considered a symbol of everlasting love. 
Nevertheless, diamonds are extremely expensive. So, how do you make the elite fashion statement smartly and affordably? Well, we got you covered for that! 
At Pure Pearls, you will find an extraordinarily wide range of pearl necklace sets with pendants that incorporate sparkling white American Diamonds and Zircon stones of the highest quality! 
Also, read our detailed article on the cost of pearls. 
Below are some examples of pearl necklaces with AD and Zircon stone pendants.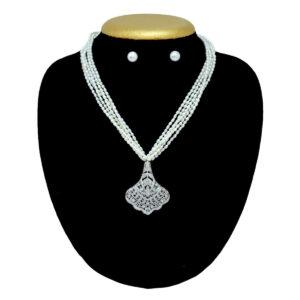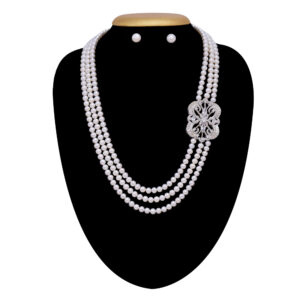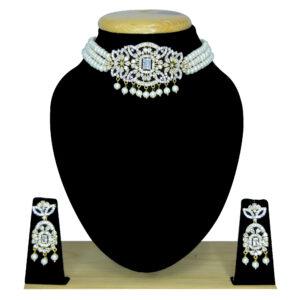 Finding Perfection in Imperfection 
As we transition to a more body-positive society, we learn to embrace our flaws as they are a part of who we are. We accept ourselves happily and completely for who and how we are. 
Pearls are a symbol of finding perfection in imperfection. A pearl, however smooth, shine and round may it be, can ever be flawless! 
Baroque pearls are great examples of that. Baroque pearls have a stunning look and an aurora-like glow to them. Their surface is very bumpy and their shape is very topsy turvy.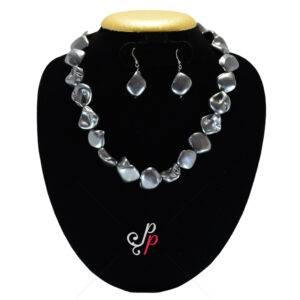 There are several other kinds of pearls. Here is an article that sheds light on them. 
Conclusion 
Fashion is an expression of one's values and pearls have been a timeless expression of being classic and elegant. 
There are plenty of different ways in which you can wear pearl jewellery to reinvent the way you dress. If you haven't tried adding pearls to your look before, it's time to change things up! From adding a drop necklace to your outfit to adding a choker necklace to your outfit, there are plenty of ways to add a bit of pearl jewellery to your look! 
If you want to look like the epitome of luxury, then shop your beautiful pearl necklace set today from Pure Pearls!
Reinventing Elite Fashion with Pearl Jewellery in 2021 News
Reinventing Elite Fashion with Pearl Jewellery in 2021 Resources