Best Tips on How to Dress Up with Pearls for Christmas This Year
Christmas is around the corner and it's time to get yourself ready! Christmas is a great time to dress up and look your best – and if you want to look really good, there is no better accessory than pearls for Christmas. 
Pearls are the ultimate fashion statement – and with the right fashion tips, you'll be looking like a million dollars! But before you can use pearls to look great this winter festive season, you need to know exactly how, why and where to wear them. This blog will help you with that as well! 
Why Pearl Fashion During Christmas? 
Pearls are considered symbols of elegance, beauty and wealth making them a great Christmas accessory. 
Earlier, pearls were only worn by women from high-income families who wanted to dress up beautifully and for whom budget was not a hurdle.
However, thanks to the new-age pearl cultivation techniques, we, at Pure Pearls, are able to bring elite fashion to your doorstep. And what better way to begin your journey into a lifestyle of grandeur than getting a stunning pearl necklace set for yourself and your loved ones this Christmas?
Pearl fashion is not merely wearing pearl necklaces or earrings but also an overall presentation of them in your dressing. Pearls can be worn on different kinds of dresses that will make you look classy and elegant. Pearls are not merely for formals or cocktail events but they can also help you look beautiful during casual occasions like Christmas mall hopping with your loved ones and Christmas family gatherings. 
How to Wear Pearls on Christmas Outfit? 
Pearls are for all tastes, you can wear pearls with a classic or elegant outfit, but pearls also harmonize a casual look.  
When choosing pearls to wear with a Christmas outfit, consider the colour of your clothing. White pearls are versatile and will complement any colour scheme. If your outfit is black or navy, choose pearls with a slight pinkish hue. For browns and earth tones, go for pearls with a warmer golden tone.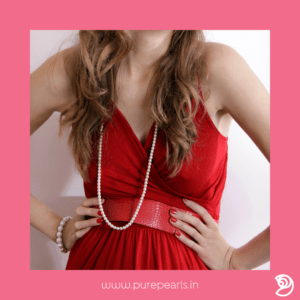 Pearls also come in different shapes and sizes, so finding the right pearls for you is important. When selecting pearls to wear with an x-mas outfit, consider the shape of your face. If you have a round face, choose pearls that are elongated such as teardrop or baroque pearls. If you have an oval face, any shape of pearl will look good on you. The trick here is to not just match the pearls with your outfit but to also contrast them with the shape of your face. 
What Designs Do You Need to Keep in Mind When Choosing Pearl Jewellery for Christmas? 
When it comes to dressing up for the Christmas season, pearls are always a great option. Here are some tips on how to best style pearls for your holiday look: 
Choose the right colour: When it comes to choosing the best colour of pearls, black and metallic shades always work well for festive occasions 
Opt for unique pieces: When it comes to wearing pearls for the Christmas season, you will always want to opt for more unique designs. Opting for unique designs gives your look a certain edge 
Opt for classic styles: Another great tip is to opt for classic styles when it comes to pearl necklaces, earrings or bracelets. Classic styles always look best on festive occasions 
Wear pearls with other accessories: Pearls like metals and stones will always be a different option for your Christmas holiday attire, and this is best complemented by wearing them with metallic jewellery of the same colour or selecting a contrasting colour such as black. You could also best match pearl jewellery of the same colour to best flatter the pearl. 
A Few Ways to Wear Pearls on X-Mas Outfit 
Pearl accessories are hot trends and they're perfect for any kind of female attire.  
Today we will give you some useful tips on how best to combine your pearl accessories with your X-Mas outfit so that everyone will remember this occasion as the best one ever! 
You can wear a short, sleeveless dress that has a wonderful print or pattern. Then, pair it with pearl earrings, and a pearl necklace. You can also wear a fancy dark velvet dress and pair it with a stunning white pearl necklace.
If you are planning to wear a traditional outfit like a beautiful saree/Kurti with a V-neck then a beautiful choker pearl necklace and earrings would help you look elegant.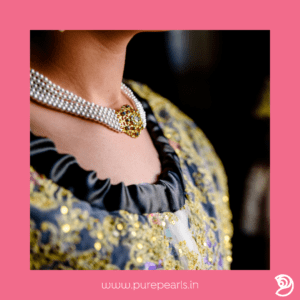 How to Choose the Best Pearl Jewellery for Your Christmas Wear?
Pearl Jewellery That Can Go with Casual Christmas Wear
Are you planning to go with a casual Christmas vibe this year? Then try wearing a simple single line white pearl necklace, a red casual top and a lovely pair of casual white bottoms. This combo will help set your look apart while keeping you comfy in your casuals!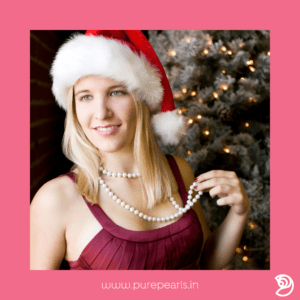 Buy single line plain white pearl necklace set. 
Pearls with Christmas Gowns 
Long gowns with a simple pearl pendant and hanging pearl earrings will complete the look without steering the eyes of spectators away from the lovely gown!
You can also try wearing an elite pearl bracelet along with it.
A contrasting white pearl necklace will be beautiful for long red gowns and a plain pink pearl necklace will make you lovely in white gowns.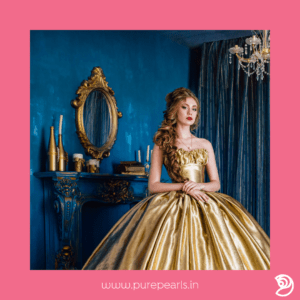 Shop simple pearl necklace sets for Christmas.
Pearls with Your Christmas Saree
Planning to wear a stunning red saree for this year's Christmas dinner with friends and family? Awesome! We have a suggestion for you. 
While sarees are pretty great by themselves, especially red and white ones during an occasion like Christmas, you can add a bit of extra flair to your attire by pairing it with an all-time classic plain white pearl necklace! 
A simple single line or 2-line white pearl necklace with 5mm to 7mm pearls will help you complete the festive look if you don't want to overdo the attire. 
However, if you do choose to add some more bling this Christmas, maybe because you are attending a grand party or meeting somebody important, then invest in accessories like pearl bangles and finger rings. 
If it is a fleet-free saree, wear accessories on just one hand.  
If you are going for a pearl choker, go for the broad ones. This makes you look grand and classy without compromising on your trend.
Explore pearl chokers for Christmas sarees.
Pearls with Christmas Kurtas 
If your choice of clothing for this Christmas is Kurtas, then you can spice up your outfit with beautiful pearl jhumkas.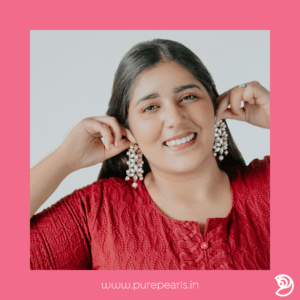 Shop traditional pearl jhumkas for Christmas.
You can go for a plain pearl necklace with large round pearls so that it will stay over your neck and add beauty to your clothes.  
If you want to wear smaller pearls, going with rice pearls is the best way forward! Rice pearl necklaces are made with several lines of 1mm to 3mm high-quality pearls. They add a similar volume and vibrance as large round pearls. 
If Kurtas have beautiful embroidery, then going for a grand necklace would be a better choice as it adds grandeur to your appearance. 
Try adding a contrasting colour to the necklace which adds a glamorous and stands out in appearance during a Christmas party. 
Pearls with Christmas Shirt and Jeans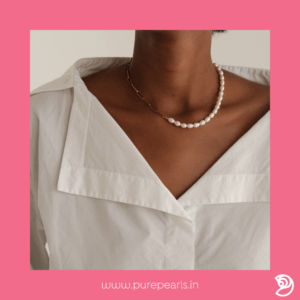 Buy pearl necklaces for Christmas shirts.
Pearls can enhance the cool and stylish vibe when you wear them along with your shirt and jeans. A pearl stud, a single line necklace with a bracelet can add a cool touch to your attire.  
Conclusion 
We hope you enjoyed our article about how to dress up for Christmas using pearls. With this knowledge, we know that you can make the most of your Christmas outfit and look great while wearing it. So, what are you waiting for? Get those pearls on and enjoy the night! 
We hope these tips will help you choose the right pearls to wear with your Xmas outfit! Merry Christmas! 
Best Tips on How to Dress Up with Pearls for Christmas This Year News
Best Tips on How to Dress Up with Pearls for Christmas This Year Resources